Budapest River Cruise & Dinner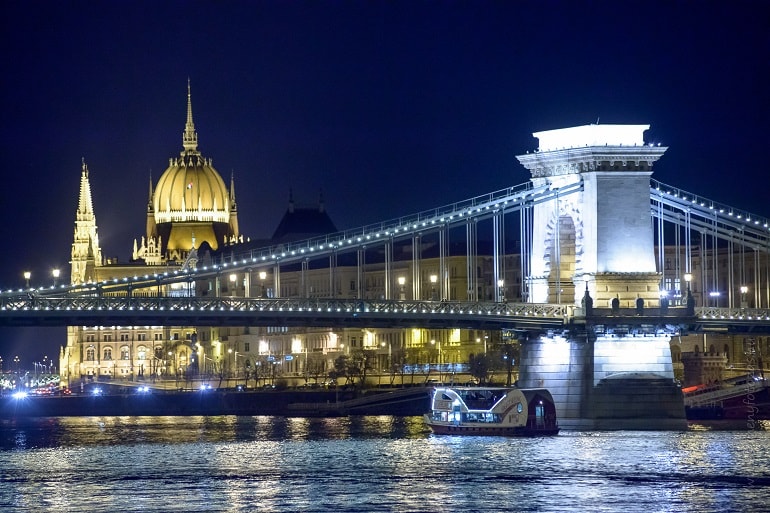 Danube Boat Tours by SILVERLINE Cruises
Why settle for less when you can opt for premium Budapest Cruise and fine dining on the Danube?
When in Budapest one cannot miss out on sailing past the architectural wonders of the Hungarian Capital. The Castle district, the Citadella or the House of Parliament are just a few of the numerous gorgeous attributes the embankment of river Danube flaunts. And whether it is sightseeing, a refreshing warm – up session before a fun night out or indulging in Hungarian cuisine while sipping at the finest local wines, Silverline Cruises got it covered.
What makes our tours the best possible choice for a Danube Cruise?
We offer a vast variety of programmes ranging from purse friendly activities to upscale dinner and river cruise tours which are all accompanied by live music and dance performances.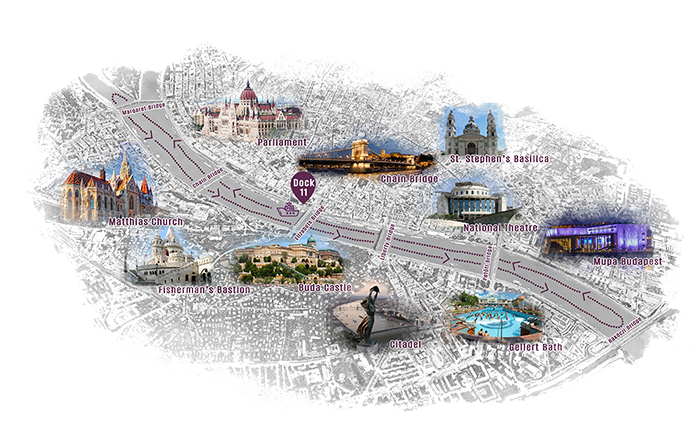 Cruise with us on the Danube on a ship with unique design, built in 2013. Our cruise ship is unique both in its technical qualification and appearance, it is a truly special sight on the Danube. Lay back, relax and enjoy the amazing panorama of Budapest!

The biggest advantage of cruising is that it offers a unique perspective for sightseeing. No bus or pedestrian tour can be compared to this experience.

During the Budapest Sightseeing Cruise you can marvel in the capital's most breath-taking sights:
the Buda Castle

the House of Parliament

the Fisherman's Bastion

the Chain Bridge

Buda Castle

and many other monumental buildings.
Budapest Danube Cruise 
The Budapest Sightseeing Cruise through the city centre offers fantastic panorama to Buda and Pest alike. You can take a look at the bridges connecting the two riversides from a perspective you may have not even imagined before. As our ship passes under a bridge, you can truly feel their monumentality.

Budapest Sightseeing Cruise through the most beautiful section of the Danube
Our ship sets sail from the centre of Budapest, the Elisabeth Bridge, it proceeds to the Margaret Bridge, where it turns back to the direction of the Rákóczi Bridge. The starting point and finish of the cruise is the same location.
Our 75-minute long cruise gives you the opportunity to marvel in the breath-taking panorama of the capital. In addition, with our Audio Guide, you can listen to other important and interesting information about the history of the city.

Be sure not to leave your photo device home! The best pictures of the capital and the House of Parliament are taken from the deck of our ship!

Pizza & Beer River Cruise: Why not kick off your night with a few pints of beer aboard of a beautiful boat that amongst others, cruising under the divine and rightfully symbolic Chain Bridge? Gather your friends and replace the boring bar scene with bashing on river Danube instead. Unlimited beer and optional snacks and meals await.
Budapest Dinner Cruise with Piano Battle Show: Budapest is stunning by day, but nothing can compare to its sights by night. Sign up for a superb evening programme and enjoy the perks of fine dining. Let our dinner and river cruise feed your senses as you are taken on a journey through the city. During the 3-hour river cruise you are introduced to the finest examples of culinary art, the most beautiful face of Budapest and real entertainment a 'la Hungary.
Sign up for our Piano Battle show with Dinner Cruise during which two pianists strive to snatch the lady from the other's grasp whilst playing both classical and modern pieces.
Budapest Danube Dinner Cruise & Folklore Show with Sightseeing: Should you look for something more authentic, do not lose out on our Budapest River Cruise and Folklore/Operetta Show that depicts what it is like to have fun the Hungarian way. It all starts out with traditional music that is played in the background while you enjoy your dinner, following which performers arrive that introduce you to conventional Hungarian dances and get you swaying to the rhythm of local songs.
Private events: Hire us for tailor-made private or corporate events on board.
Enrich your vacation with an unforgettable experience and lie back as the picturesque city's sights unfold in front of your very eyes.
The pedestrian streets of Budapest and the city center itself offer many interesting attractions for adventurous tourists. However, it has to be taken into account that the road leads to crowded streets and parks. Still, there is a smart way to avoid the crowd but be able to visit all the famous attractions of Budapest. Join one of our Danube sightseeing cruises and be able to adore the romantic side of the Hungarian Capital from a totally different perspective.
It is no exaggeration to say that one of the most spectacular views of Budapest is provided by the panorama from the Danube River. The Danube itself and even more the Danube bends represent such a unique panorama, that it became a part of the list of the UNESCO World Heritage Sites.
So this is such a spectacular attraction in Hungary, that it is included in a 'do-not-miss' category of every Budapest vacation.
During our Budapest river cruise, we invite you, your friends and even your family for a 75-minute boat trip on the River Danube, from where you can admire the Buda Castle or one of the symbol of Budapest: the Parliament, and the Gellért Hill and many other attractions in the capital of Hungary.
In addition to our cruising program in Budapest, we recommend using audioguide. (The information is available in 11 languages; ask our colleagues to help you set up the audioguide device) This allows you to enjoy more of the details of the history of the capital, while you are enjoying the experience of the sailing and the views of the city. And if you are hungry during the sightseeing cruise, we can serve you with delicious Street Food offered in our buffet.
Sit down comfortably or stand next to the handrail, enjoy the gentle ride of the ship, enjoy the warm or cool breeze on your face and be immersed into the panorama of Budapest.

This type of cruise is a version of our Budapest sightseeing cruise, with the difference, here we offer a pizza per person and unlimited beer consumption during the whole tour in addition to the experience of sightseeing and sailing on the river.
On our Booze cruise, the price of the tour includes besides the sightseeing, a delicious pizza (size: 26 cm, 5 x variety) as well as UNLIMITED BEER and non-alcoholic drink consumption.
Join our Sightseeing cruise in the middle of the Danube River, take a look at the most beautiful panorama of the city, accompanied by a delicious pizza and unlimited drinks by your choice.
Take a break during your walking tour of the city center and join our cruise where you can have a lunch break while visiting the attractions from a different perspective. Or join us around sunset and discover the most beautiful colors Budapest can provide you, or even dine together with your friends, colleagues, or family members while you go for a 75-minute river cruise in Budapest.

Boost fun and joy with our dinner cruise program, enjoying piano battle show on the Danube, where you would get a 4-in-1 pleasure, as having a full city sightseeing tour along the water with a sophisticated live music program!
During the three-hour Budapest night cruise you will have the opportunity to admire the monumental buildings of Budapest from the most beautiful perspective close to nature, while our friendly waiters do serve you a welcome drink of your choice and a 4-course dinner with tasty Hungarian dishes consisting of the appetizer, soup, main course – chosen from our selection – and dessert (the delicious menu includes vegetarian options and some dishes that are sensitive to any food intolerance).
The romantic atmosphere of the evening is provided by soft candlelight moreover, the two talented pianists and an enchanting female singer – having professional knowledge of world-wide known songs – will provide the program of the dinner, knowing as piano battle show. Not only do they offer pleasant background music for dinner, but they also entertain our kind guests with exciting show elements. Dinner is filled with some famous and popular, sometimes cheerful, sometimes melancholic melodies. Our special piano battle show with exclusive dinner is one of the most popular programs in Budapest chosen by not only foreign guests but also Hungarians.
What do we offer? What is the 4 in 1 experience package exactly?
A really special and fascinating way of sightseeing, cruising between the two parts of
Budapest, called Buda and Pest, admiring the new face and perspective of the city
that never be seen from any road.
Be amused at the wonderful view of Budapest at night from the comfort of a luxury catamaran
for 3 hours.
Enjoy a high-quality live show on a 3-hour cruising.
Furthermore, take delight in our full menu of 4-course premium cuisine, truly gastronomic experience for all guests, paying attention to any food intolerance.
We do offer more than just a cruise, a sightseeing tour, a pleasant cozy dinner and even a live piano battle show in Budapest. Out of these four components, we have created the most exclusive elements of our unique piano evening dinner cruise program that is available every day of the year. Thanks to its special atmosphere it is also a first-class present as a great choice for couples and families to celebrate any festive or being just together, enjoying each other's company. So, let's surprise your loved ones with an unforgettable experience!

Budapest Cruise with Dinner and Operetta & Folklore Show
The dinner cruise with operetta and folklore show on the Danube is one of our most amazing and unique programs. Having a 3-hour cruise in Budapest is the most proper opportunity to admire the Danube and being amused by the great night lights of the city.
You have the chance to see the lights of the monumental Hungarian Parliament shining on the river, floating across the Danube and enjoying fantastic lights even having a romantic atmosphere. This kind of Budapest dinner cruise with dinner is excellent entertainment and cultural program at the same time where besides you will admire the most spectacular sights of the capital city, you could get some knowledge or aspects from the Hungarian folklore and operetta known the world over.
Thanks to our talented folk dancers and operetta singers, you do experience the reason why the Hungarian cuisine and culture are so outstanding in one night. During the 3-hour cruising, it does not only present the breathtaking folk clothing but also special steps that you will get the chance to learn taught by folk dancers, taking a piece of Budapest boating and a piece of Hungarian culture with you.
During the night, all Hungarian music and dance are guaranteed to be cheerful giving joyful mood. During the 3-hour fun, a 4-course dinner with delicious Hungarian-style dishes are served. The dinner cruise does start with operetta and folklore songs at 7.30 pm running until 10.30 pm, so besides you must take pleasure in beautiful Budapest and fun show, you will enjoy the gorgeous sunset. After an hour and a half, the ship turns around, enjoying a dessert from your seat, you could admire a new part of the city "hidden" before.
After the fantastic finish of cruising, it returns to the starting point, at Dock 11. This night is guaranteed to be an unforgettable experience. The Danube cruise Budapest with an operetta and folklore show is one of the greatest Budapest programs for the whole family, providing maximum relaxation and entertainment for adults even children by music and visuals.

Cruising In Budapest On The Wondrous Danube At Christmas
Let's celebrate Christmas Eve on a luxurious catamaran enjoying its Christmas scenery and amazing spirit. We could aim to create a cozy Christmas atmosphere for you and your any nice partners by providing our special occasional cruising in Budapest. On the eve of Christmas, we are gladly looking forward to you with a four-course unique dinner and a special festive live show. The enchantingly Budapest lighted up with some tasty food, candlelight atmosphere and being amused by a fancy live piano battle show – enjoying beautiful songs by musicians – on board are all offered in order to give you and your any nice partners an unforgettable intimate and homelike experience.
Let go the stress of Christmas that unfortunately many people feel during the holy festive, you do not have to struggle what to cook for a great occasion, even you do not have to rush to get everything done on time. No upset, no washing up for hours, just relaxing in a perfect comfort organized everything by others. At Christmas time, the ship and also whole Budapest are wearing a festive robe to celebrate the most special days of the year in the perfect atmosphere. Admirable Christmas tree takes place in the middle, candlelight is everywhere, home-like mood with nice staff and full of kindness.
Details of the program are the followings:
24th and 25th of December – departuretime 7.30 pm.
Tickets of Budapest Christmas cruise program include a 3-hour cruise with live music and show.
Each our guest is welcomed with a glass of drink – champagne or soft one – before the departure of the ship.
During the evening, a delicious 4-course dinner with optional meals will be served.
Boarding starts at 7.00 pm. Guests are welcomed on Dock 11. (exactly, the address is 1051 Budapest, Petőfi Square, Dock 11.)

Crusing And Having New Year's Eve Dinner In Budapest
Say goodbye from the last day of the year from the middle of the Danube and say hello to the Happy New Year on a luxury catamaran! Our New Year's Eve Budapest Cruise Program is a great alternative to close the end of the year. A majestic dinner, a magnificent Danube panoramic view and live piano battle show do guarantee to feel the fascinating mood of the last night of the year.
At midnight right in front of the Hungarian Parliament, we can clap together in the middle of the Danube while admiring the festive fireworks. Join us, get on board on New Year's Eve and close the year with a magical night spent with your beloved ones and friends. The New Year's Eve dinner, accompanied by a sightseeing tour of Budapest and a live piano show, could promise an unforgettable experience for our guests. While your eyes rest on the magical panorama, a fantastic show by talented pianists will make the evening feel unique.
Can you imagine a smarter way to say hello to the Budapest New Year? The way you spend the last day of the year, you will have the rest like that in the next! In this spirit, make sure that your new year is filled with luxury, comfort and entertainment. Say goodbye to the exact year and celebrate the new one together! On our New Year's Eve luxury catamaran, we guarantee on a truly spectacular journey with beautiful lit of Budapest, where our starting point is in 2019 and we will not stop until we will arrive in 2020.
Our New Year's Eve cruise program features a welcome drink, a four-course dinner menu, a high-quality musical program and a glass of champagne as welcome drink. Tickets are limited in number for this occasion so do not miss it! Buy your ticket for our New Year's Eve cruise dinner program and surprise your loved ones with this highly exclusive experience!

Firework Cruise On The Danube On The 20th Of August
The 20th of August is the celebration of the founding of the Hungarian state and the commemoration of the founder King St Stephen, known as the largest national holiday in Hungary. On this day, festivities are held at various locations throughout the country, in Budapest, too. The dome of the Parliament is opened, where the Holy Crown can be viewed, and many concerts will be held at various parts of the city. The main point of the day in Budapest is the huge fireworks over the Danube at night. Year by year more and more Hungarians are coming to the city from all over the country to view the highlight of the day.
If you are also here to celebrate the festive 20th of August, come and watch the breathtaking fireworks from a premium location on a luxurious catamaran, exactly catch each moment from the Danube. So, let's take part in a festive cruise, a sightseeing tour in Budapest. During the cruising, besides being fascinated by the enchanting atmosphere of the evening with the live piano show, you will be served a four-course dinner with so delicious food specialities. At the final point of the evening, reaching the Margaret Island, the boat will port at Batthyány Square as the exact place where you must admire the above-mentioned breathtaking holiday fireworks. How to make the 20th of August program truly memorable?
On this special day, our firework dinner cruise is the perfect venue for a romantic evening program in Budapest. While our guests are gazing at the fireworks, our serving team will ensure everybody's comfort celebrating here. A 4-course delicious dinner menu is an ideal choice for anyone who cannot decide in advance what they want to consume during the night. Since onboard, our guests will have more options to choose from dishes, consisting of the 2 types of appetizers, then 2 kinds of soups, 6 different types of main course options, including 2 vegetarian ones. In addition, our dessert is served with a classic flan cake and, on request, a fruit salad for our gluten-sensitive guests.
Our Danube cruising takes 4 hours, where we ship for 45 minutes towards Margaret Island, after we will port at the harbour of Batthyány Square, where we have an excellent panoramic view with the Hungarian House of Parliament, gazing at the fireworks. During this proper program we will entertain our guests with one of their choices, which can be a Hungarian folklore evening, including live folk-dance show and gipsy music or live piano battle show performed by talented female singer with two professional pianists playing international classical hits.
The timetable of the fireworks cruise program for 2019 is the following:
6.00 pm: shipping at Silverline Dock 11 under Elizabeth Bridge
6.45 pm: departure time
6.45-7.30 pm: having a small tour to Margaret Island and back to Batthyány Square,where our guests can admire the fireworks.
10.00 pm: returning to Dock 11

Cruising In Budapest On Valentine's Day
There is nothing more romantic than spending a candlelit dinner accompanied by a live piano battle show while enjoying the sunset and sunshine of Budapest. But with whom? Of course, on Valentine's Day with your loved partner.
Surprise him/her with a special luxury dinner meanwhile exploring Budapest and its significant historical and cultural parts like Gellert Hill, the Chain Bridge, the House of Parliament or Fisherman's Bastion. On our Valentine's Day – 14th of February – cruising, we have created all the conditions to spend one of the most beautiful nights of your life together. Let go, you should not be stressed of anything since we will take care of each moment to be perfect and memorable!
A table is decorated with rose petals; champagne, a heart-shaped appetizer and also a dessert will please you. On request, we also provide you with a premium Valentine's Day surprise package that includes a single red rose, a heart-shaped Szamos marzipan dessert, and a joint photo of you to keep a sweet memory of this proper evening. All in all, Valentine's Day is a significant event for us such as Christmas or Easter, so we would like to provide an unforgettable experience to our guests. We try to do our best to have a pleasant and romantic atmosphere that will pass through the cruising, confidently expect to captivate everyone who has chosen this kind of demanding entertainment.
Join us for a Valentine's Day cruise and spend an evening to be given by a sightseeing tour – amazing fascinating Budapest on the background – and live music moreover, an exclusive 4-course dinner with your sweetheart.
Make this day more special! I guess anyone who wants more than that would avoid the clichés, but still celebrate the evening with a nice dinner, choose our piano battle show evening, where the housewife as a true female singer and our talented musicians will make the water-conscious city more enjoyable.

Easter Dinner Cruise In Budapest
Join us for our Easter cruise dinner program to make this year's Easter special. Celebrate the greatest holiday of Christianity, the resurrection of Jesus Christ. Our boat awaits you providing a memorable high-quality live show for a 3-hour journey and a delicious 4-course menu.
Usually watering men today sprinkle ladies with perfumes asking for painted eggs in return. Some years ago, or still nowadays in many countrysides, men like to use clean water to bath women to keep Easter traditions alive.
Although we cannot promise you will be watered on board, each our guest will get a fancy Szamos marzipan chocolate egg as an emblem of Easter. Meanwhile, you are cruising along the Danube and admiring spectacular buildings of the capital, you are taking pleasure in the wonderous folk live show performed by Hungarian skilled folk dancers and musicians.
On Easter Sunday and Monday, we ensure delightful meals, enchanting architectural buildings from board moreover, our entertaining folklore and operetta live show, getting some knowledge of the Hungarian traditions, culture and the way how you might celebrate this holiday in a catamaran, even the way how you could be more relaxed in a cozy atmosphere with your family and loved ones.
That's exactly the most proper place to explore our kind country.
Tickets of Easter dinner cruise program are limited so if you honestly would like to take part in an unforgettable event and get enjoyable experience, choose and book your finest ones at affordable prices.