B

u

d

ap

e

s

t

at

C

h

ri

st

m

as Ti

m

e w

it

h a u

ni

q

u

e e

xp

er

ie

nc

e
Christmas Dinner Cruise on River Danube!
🎄
Have you ever seen the beautiful architectural wonders of Budapest lighted while you were having a delicious dinner, tasting excellent Hungarian wines and listening to pleasant piano music on the board of a luxury catamaran?
We offer you this unique experience on 24th and 25th of December 2022 in the frame of a Xmas Cruise

| | |
| --- | --- |
| Boarding | 19:00 |
| Departure | 19:30 |
| End of the tour | 22:30 |
DRINK PACKAGE
Alcoholic drinks
Alcohol free drinks
Quality Hungarian wines
(From wines of different regions e.g.: Villány, Balatonfüred, Noszvaj)
Juice
Sparkling soft drinks
Champagne
(Sweet and dry)
Mineral water
(sparkling and non-sparkling)
Beer
(Staropramen, Borsodi)
Coffe
Tea
During the 3-hour long Budapest dinner cruise between Margaret Bridge and Rákóczi Bridge you can admire the panorama of the impressive banks of River Danube and the Castle District designated as part of the UNESCO World Heritage, the Parliament which is said to be one of the most beautiful parliaments of the world or the emblematic fortress of Budapest, the Citadel among others. The catamaran passes under the first, monument bridge of Budapest, the Chain Bridge which became the symbol of the city and attracts many visitors. We offer you this unique experience on 24th and 25th of December 2022 in the frame of a Christmas Dinner Cruise.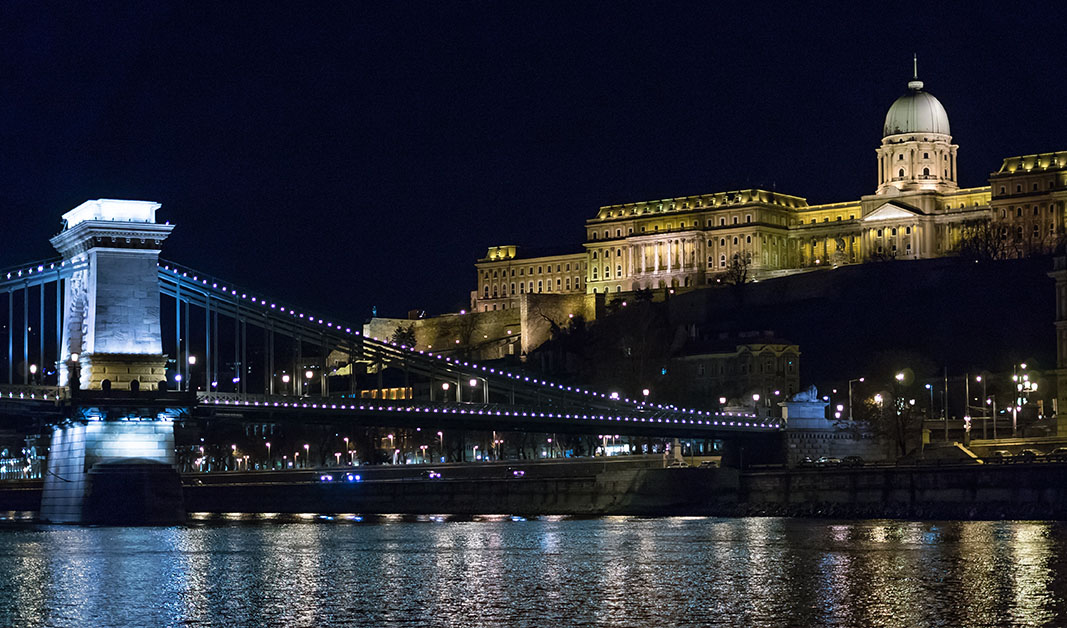 You can welcome the Holy Night by a Christmas Day Cruise sailing on the second longest river of Europe.
Let us introduce you the Hungarian cuisine through a fine 4-course dinner and some excellent products of Hungarian winemaking during this luxurious Budapest dinner cruise. You can choose from 2 appetizers, two soups, six main courses and two desserts. Vegans and vegetarians can also be satisfied as the menu contains courses satisfying their special needs too.
You will be enchanted not only by the amazing buildings of Budapest and the fine Hungarian tastes but by a fantastic piano concert too. After dinner you can enjoy live piano music. Two talented pianists "fight" with each other performing a Piano Battle Show. It is guaranteed that you will have a great time and you will enjoy the well-known piano pieces, whether you prefer cheerful or melancholic music.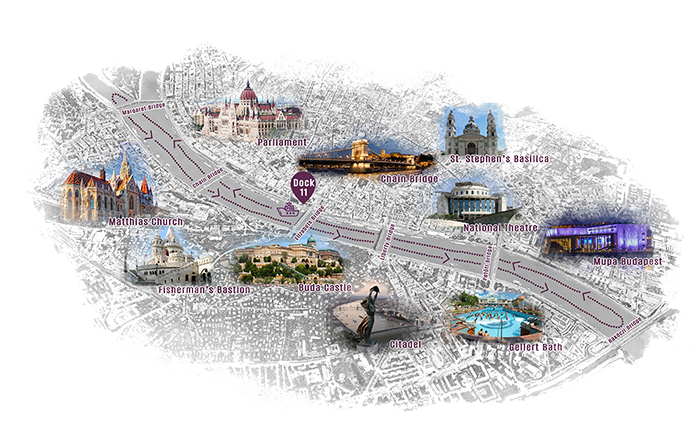 Our dinner cruise program on Xmas days, especially on the 24th and 25th, with live piano show is the most excellent option for all these purposes. Our luxury catamaran is dressed in festive robe, charming decorations and candlelight are everywhere inviting guests on a magical Christmas trip. Besides delicious cuisine and a special festive live piano show, the spectacular view of the whole illuminated Budapest will fascinate you throughout the Christmas cruise dinner. Have a truly unforgettable experience for the whole family in the spirit of luxury! Let's surprise your family and kind friends being together at night, taking pleasure on a first-class newly built catamaran. Only limited number of tickets are available for this special occasion on the 24th and 25th of December.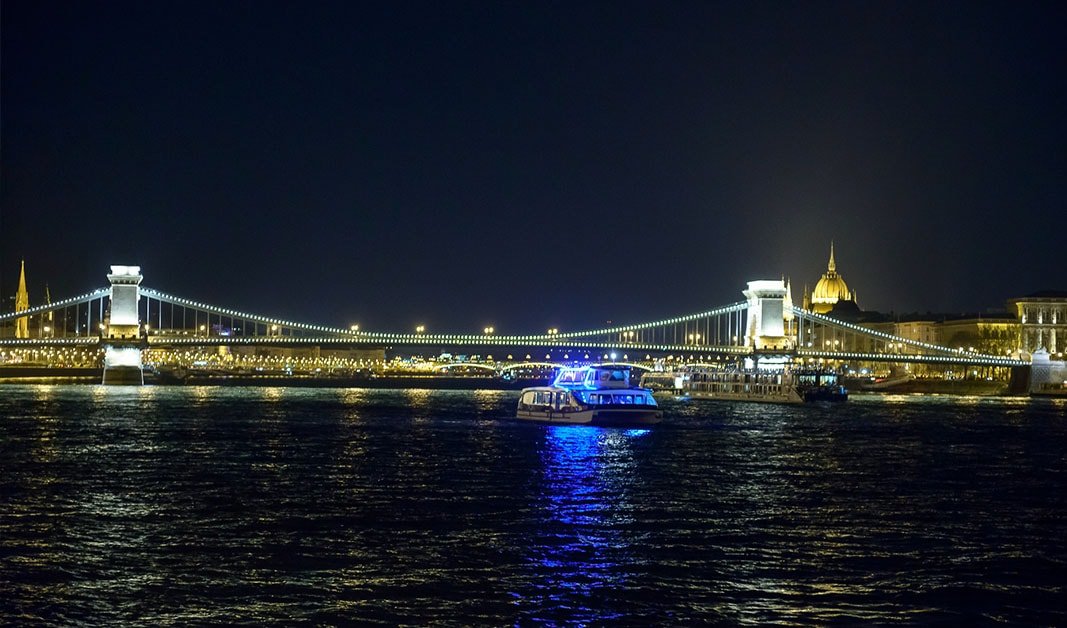 Our newly built, fully air-conditioned, elegant catamaran which is available for the accommodation of up to a hundred people on the lower deck ensures your comfort during the whole journey. If you wish to get some fresh air, you can go to the open terrace of the upper deck.
Our Christmas Day Cruise is an unforgettable experience, nighttime sightseeing through which you can get to know Budapest and the Hungarian cuisine as well.
The unique designed catamaran departs from Dock 11 in the neighborhood of Elizabeth Bridge at 7:30 pm and arrives back from the Budapest dinner cruise at the same location at 10:30 pm.
You can book a Budapest dinner cruise with a 4-course dinner and a welcome drink. We recommend do not miss to taste the Hungarian house wines, bottled beers, champagne. We also offer soft and hot drinks on our board or a special dinner with a drink package as well. If you look for an entertaining evening program for the whole family for this unique holiday, this Christmas Dinner Cruise will be a perfect choice.
If you spend your wintertime at Budapest do not miss our special Xmas Eve Cruise as it is available only once a year!
What does Christmas mean for you?
When I was usually asked what Christmas meant to me, I could only express two words love and family. Which really would not be a huge error, because it is true, but I have forgotten many things to say. Christmas does determine so much else. Many things come in my mind if I realize what Christmas means for me. Celebration of love when the whole family tries to show love with attentiveness and gifts. Light dinner but festive meals cooked by family joint meanwhile making gingerbread, sweet cakes and unique wondrous decoration of the house.
In addition, peace and togetherness. Music… because without Mr. Bublé's Christmas album, Frank Sinatra, and without Ella Fitzgerald, it is not Christmas. A walk on the winter snowy streets. Donations, warm blankets, hats, scarves, delicious meals and presents under the Christmas tree.
The key is to be together with your family members and you all loved ones. It may sound strong, but inside we all know that Christmas time is the biggest thing of the year. Silverline does provide everything you need, any requests regarding Christmas mentioned below. Choose a Christmas festive program, being on board in Budapest on the Danube.
Christmas is the closest holiday from all to people's hearts. Additionally, Christmas Eve is able to stop time for a few hours and disappear all kinds of everyday troubles, turning more attention to each other, to our loved ones. That is the feel we should do in the whole year. It would be magical wouldn't it? Would you like a Christmas, when no one needs to spend lots of hours in the kitchen at home, would not be smelly from oily chicken in sweat suit? Christmas would be no hurry and worrying anymore; each member of the family should focus only on what really matters: their loved ones and moments spent just together.
Some detailed information about the program you need are the followings:
Departure time is 7.30 pm both on the 24th and 25th of December
Tickets of Christmas cruise program include a 3-hour cruise with live music and piano battle show – Hungarian talented musicians and a charming female singer will entertain you in the evening.
Being welcomed with a glass of champagne before the departure of the ship. - Furthermore, during the evening cruise on the Danube, a delicious 4-course dinner with optional meals will be served by our professional staff
Boarding starts at 7.00 pm.
Guests are welcomed on Dock 11. (exactly, the address is 1051 Budapest, Petőfi Square, Dock 11.)
We are waiting for our passengers to be given by this unforgettable adventure. Book your Christmas dinner program soon to guarantee a perfect celebration!
Or do you prefer to celebrate New Year's Even on board? Visit our New Year's Eve Dinner program and celebrate this evening the Hungarian way.