SURPRISE YOUR PARTNER WITH A ROMANTIC DINNER CRUISE ON VALENTINE'S DAY CRUISE!
Seeking fo ideas where to bring your beloved one this year for Valentine's Day? Because You already tried so many restaurants and it is just so boring to always have the same program, an average dinner?
Maybe it is time for you to try this year something special, an unforgettable experience -where you can enjoy your dinner of course-, but get something extra that makes this evening really unique. A program, that makes you see the things from a different perspective, like a unique sightseeing-dinner and live music show on the board of a dinner cruise.
Join us this year on our river dinner cruises and experience the romantic side of Budapest from the board while floating on the river on our unmatched, self-designed catamaran.
Enjoy a delicious fine dining experience on the river Danube this Valentine's day.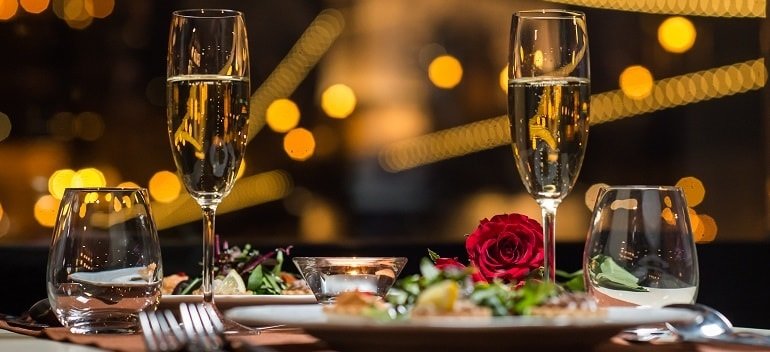 By the way, do you know the origin of Valentin's day?
If you know – more or less - who was exatcly St. Valentine (a martyr of the Roman empire who helped to get married for young couples in secret places, when it was banned by the current emperor), the only question remaining is, how this day became so extramely famous worldwide, that millions of people buy flowers, cards, chocolate for the beloved one to show their feelings to each other?
The answer is pretty easy: February is basically the end of the winter period, the rebirth time of nature. This time of the year is the preparation for love. The love between living creatures. This was celebrated already in the ancient time like the so-called fertility festivals to purify the people, the cities and chase away the bad spirits for the whole year.
How the evening is going on our Valentine's Day dinner?
Take your significant other out on a unique, once in a lifetime experience and enjoy the number of perks that come with our Valentine's package.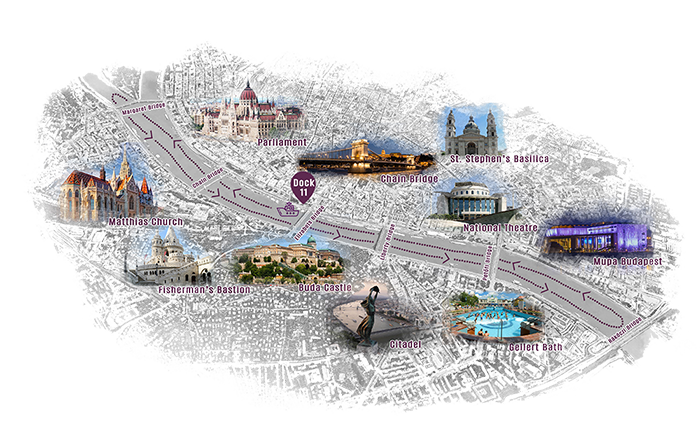 Since this evening is very unique for us as well, we want to make sure everyone will have a lovely, romantic atmosphere while enjoying the dinner, we created a Valentine's Day dinner package only for 14th of February.
That is why our dear guests are awaited on Valentine's Day by colored champagne and heart-shaped chocolate desserts.
You will be greeted by our lady master of ceremony, who is responsible for the great atmosphere for the whole evening.
During the evening we will take a special love picture from you, what you will get after the dinner as a lovely memorie from this special evening.
The dinner is accompanied by live piano music and the singer will sing well-known melodies or even love songs based on the request. Please don't forget, if you have a special love song, that important for you and you would love to surprise your love with it, then don't hesitate to ask our team to sing it for you. Even better if you feel the power to sing it yourself.
During the 3-hour cruise, you will be served a 4-course meal prepared by an onboard chef.
We created this menu, that everyone can find something savory even they prefer vegetarian menü or they have any type of food intolerance.
You can select tasteful starter for beginning, than a hot soup to warm up your soul if it did not happened yet. We offer you 6 different type of the main course, just like a little taste of Hungary or a touch of international classics with some vegetarian option as well.
And the best part for the sweet tooth type people is the dessert, which will definitely dulcify your mood for this special evening.
Once dinner is over, the two pianists take the stage in an attempt to win the lovely lady's heart. The musical battle takes guest on a unique journey as a wide range of genres are played, from classical songs to modern tunes until we arrive back to the dock where you get your Valentine's picture of the evening.
As well, if you have any request, just like anniversary, proposal, etc, please don't hesitate to contact us with your wishes. We will do our best to try to help to make this evening special.
WOULD YOU LIKE TO SURPRISE YOUR PARTNER AT VALENTINE'S DAY?
Choose our fascinating Valentine's Day Cruise!
Have you been seeking the best venue for weeks, but do you think traditional ones are too boring? In this year, would you like to find out something marvelous and unique? Do you think that your sweetheart deserves the perfect one for everything? Let's see: how do you imagine an ideal rendezvous with your partner?
Amazing lights, tasty food, delicious champagne, a fancy present, and romantic music… If you say 'yes', do not have to continue searching! We provide all of this on our luxurious, self-designed catamaran, during our Valentine's Day program Budapest.
Let's see, what the Valentine's Day program is like by us!
In the evening of 14th of February, the Valentine's Day Cruise starts from Petőfi tér (Petőfi square) in Budapest, from Dock 11. We ask you to arrive and embark at 7:00 pm. Our lady master of ceremony will greet our guests with colored champagne, heart-shaped chocolate dessert, and rose-leaves, so you can spend this boarding time pleasantly. You can choose your courses when you arrive at our Budapest dinner cruise. The catamaran leaves at 7:30, and arrives at 10:30, so the whole trip lasts 3 hours.
The lights of Budapest are amazing at night. Please close your eyes and imagine the dark river with the dark sky above it. You are travelling on the quiet waves, and on the two banks of the river, you can see the gold lights of the city. You may feel that you are sailing among the stars! During the Valentine's Day Cruise, it is worth to gaze the impressive and floodlit buildings such as the Hose of the Parliament, the St. Stephen's Basilica or the Castle. They all have an important role in Hungarian history and culture. If you are interested in the spectacles of Budapest, we recommend also Budapest sightseeing cruise, which can be an ideal family program.
On this special Budapest dinner cruise, our onboard chef provides a 4-course menu which is available in four languages. At the beginning, we offer some delicious starter and a pleasant bowl of warm soup. Then you can choose from 6 different types of the main course. You can try traditional Hungarian dishes like goulash soup or veal stew with Hungarian noodle dumplings, but you also can choose tasty vegetarian dishes e.g. spring salad with honey-mustard dressing, grilled halloumi cheese served with fresh garden salad, or you can taste classic international dishes. Of course, the best and sweetest part of a meal is the dessert, which will surely dulcify your evening! You can have flan cake forest fruit ragout or fruit salad on our Valentine's Day Cruise. If you have any food intolerance, do not have to give this program up, because we can offer you special dishes.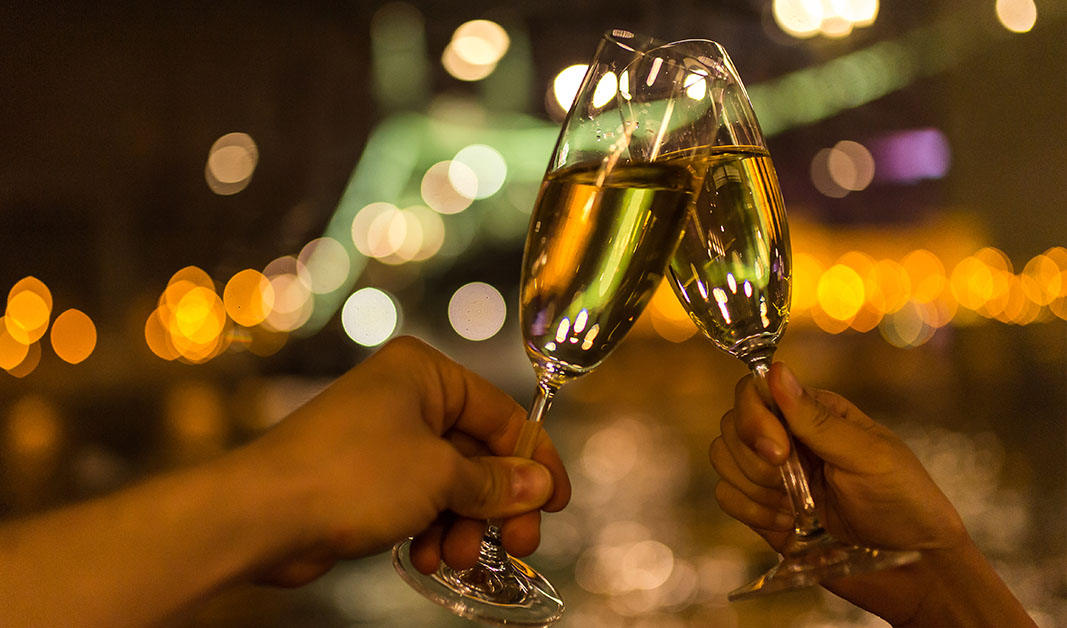 However, a romantic night is unimaginable without music, isn't it? We know this very well, so we provide a lovely, romantic milieu for you. During the dinner, you will enjoy live piano music accompanied by a vocalist who will sing well-known tunes, including, of course, love songs. Why don't you surprise your sweetheart with a melody which is sung just for her? If you and your partner have a special love song, which is especially important for you, ask our team to sing it for you. We guarantee that it will be an unforgettable feeling!
Of course, your love and the pleasant adventure are the most important, but a nice gift can always make the event brighter. So let me tell some words about our Valentine-package! After the Valentine's Day Cruise, you can take home not only the beautiful memories but also our Valentine's Day gift. This little present includes one red rose, two Szamos marzipan desserts.
By the way, who was Valentine? According to his legend, he was a priest and lived in the 3rd century. Valentine helped couples to get married when the Roman emperor banned this. So he became the patron saint of marriage and lovers. His day is absolutely not a newfangled holiday. Even in ancient Rome, people celebrated the love and fertility at the end of the long, cold winter. Saint Valentine's Day was first associated with romantic love by Geoffry Chaucer in the 14th century, in the golden age of courtly love. However, Shakespeare also mentioned this day in Hamlet.