Boarding Place
1051 Budapest, Petőfi tér, Dock 11.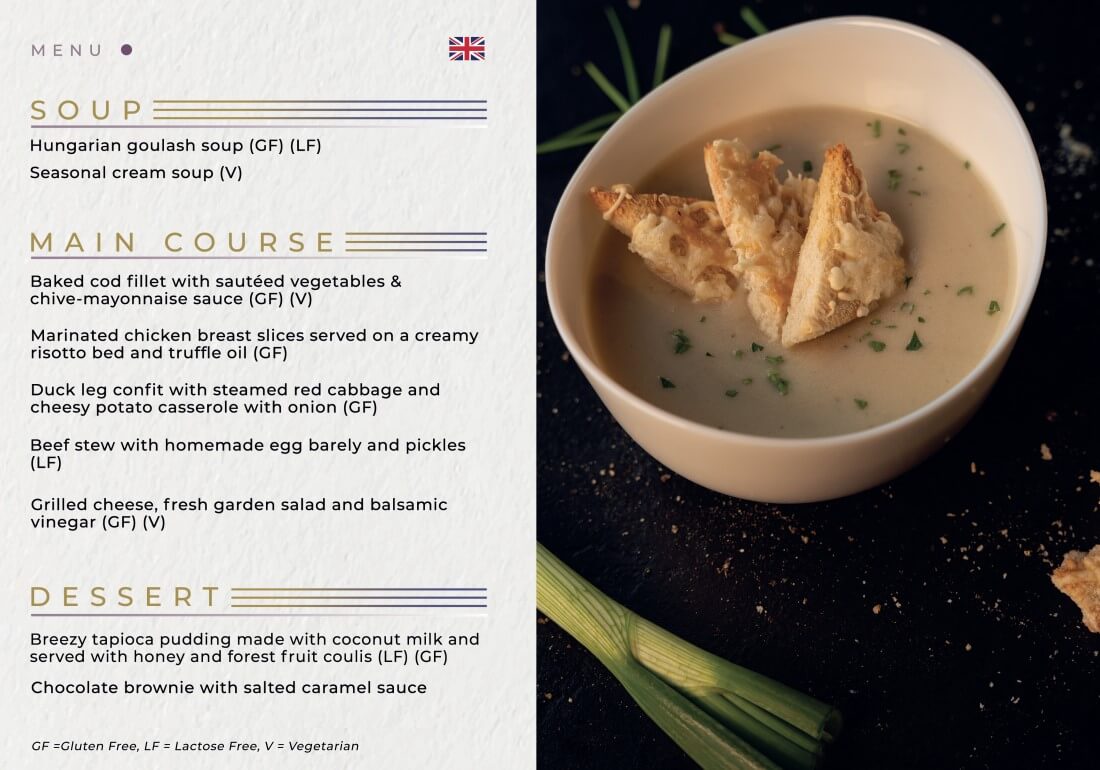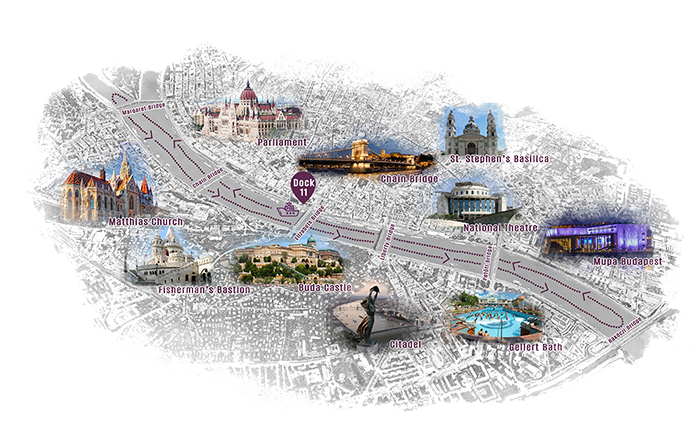 Budapest dinner cruise and folk show
On this Budapest dinner cruise in addition to our enthusiastic band of musicians, folklore dancers dressed in traditional Hungarian costumes guarantee your absolute comfort and diversion. Wine and dine with utter elegance and do not be surprised, that as the evening nears its end, you will start to feel like a local more and more.
Our mission is not only to give you a simple sightseeing programme, but we would like to give you also a life experience, that you can share with your friends after 20 years.
Do not miss this exclusive Budapest dinner cruise and folk show, get on board and savor the moment.
Are you keen for a once-in-a-lifetime dinner in Budapest? A dinner, which is so unique you will tell your children, that the top of the amazing Budapest visit was, when you had the chance to visit the city from the river and had an absolutely amazing view, where you could feel as you would be a part of the mysterious history of this capital?
Join our unique dinner, where you will get all these feelings, in addition to a delicious, 3 or 6 course dinner and great live music with a traditional dance show. Our Folklore Show is waiting for you with an unforgettable experience, with a singer and a violin, with a contrabass, and a cimbalom and with many dancers, who will bring you an unadulterated and authentic Hungarian Folklore atmosphere.
By the way, have you ever heard the sound of a cimbalom? Have you ever listened to music with the sound of a cimbalom? Actually, do you know what a cimbalom is? This stringed instrument is commonly used in the folk music of Central-Eastern Europe. Its trapezoidal wooden body stands on four legs and has metal strings stretched across its table . And how is it played? Usually, the player is sitting in front of the cimbalom and he uses two beaters – more like a "spoon-shaed" wooden hammer, covered with leather- against this metal string.
If you are a music lover, you have to get to know the modern cimbalom that has been invented in Budapest around 1870 and was introduced as an orchestral instrument by Franz Liszt in "Ungarischer Sturmmarsch".

Our operetta and folklore performance-infused Budapest dinner cruise and folk show is the most popular sightseeing opportunity in the city. Not surprisingly, as our activity offers way more than other sightseeing or dinner services.
We offer:
Budapest sightseeing in the sunset
romantic, candlelight dinner
3 or 6-course dinner with the main course of choice (meat, fish or vegetarian options)
up to par operetta performance with the contribution of excellent vocalists
entertaining folklore show with talented dancers
Our Budapest dinner cruise and folk show offers 3 hours of pure entertainment. If you enjoy delicious meals and special, authentic and stirring activities, our folklore and operetta dinner cruise is just perfect for you.
We offer quality pastime: with a single cruise, you can enjoy everything Budapest may offer: breath-taking panorama, a slice of Hungarian culture and traditional Hungarian meals and beverages.
BUDAPEST DINNER CRUISE WITH FOLKLORE AND OPERETTA SHOW
MENU
Here is again a short summary from the menu we offer on board. This one includes a wide range of different styles of dishes to fulfill all the requests even if they are vegetarian, or they prefer traditional Hungarian food.
During this 3-hour Budapest dinner cruise, our guests are having the opportunity to adore the attractions of the illuminated Budapest, which is shining every evening in golden lights. Upon arrival, our guests are greeted by our hostesses and served, such as sparkling wine or other soft drinks as a non-alcoholic beverage.
This menu includes a starter as the first course, then a hot soup, that is followed by the main dish. This menu has been created thoughtfully to be able to fulfill any type of needs and wishes. Namely, you will find the perfect dish for you, whether you want to try the Hungarian cuisine or prefer international, classic tastes or meatless, vegetarian meal. Of course, do not be afraid, if you have any type of food intolerance, since our menu includes lactose and gluten-free dishes as well.
As a starter, you have the option to chose a light – almost calorie free- salad, if you prefer to eat something light as the first dish, but if you are an adventurer, you will prefer the tasty, small pastry baskets (Burcheé) with the interesting fillings.
It is the same with the soup, you can continue with a vegetarian potato cream soup, that includes carrot chips and has a smooth taste or you try the Hungarian goulash soup with a little traditional taste.
The soup is followed by the main course, which offers six different types to choose from and includes very exciting flavors. Choose wisely, as you have to like your main course but deffinitely want to try your neighbor's interesting dish as well. Vegetarian people have the opportunity to pick one of the salads, in turns, meat lovers can try the traditional duck a la Hungary, or the "pörkölt" not even to mention the delicious fish. Prepare yourself, it will be hard to choose.
And finally, the best part of the dinner – at least, if you are a sweet-tooth type- is the Flan cake with the fruit sauce, which will dulcify the rest of the evening for sure.
Drink package
Our Danube cruise has a classic bar with all kind of drinks, to make our guest feel comfortable, in case you select a drink from the drink menu, you pay only for the drink you consume, this it can be wine, beer, shots and cocktails as well, everything you find on our menu.
In case you are a beer type or you prefer to drink the same wine with a soft drink for example, than our drink package is a perfect choice for you. This offer includes unlimited consumption from the following beverages:
Let us start with the alcoholic drinks:
our drink package includes different types of selected wines from the Hungarian wine regions, even if you prefer white-, rose- or red wine, you will find the proper wine for yourself.
or do you prefer the sparkling type of wine? No problem, we can fulfill your wishes, whether you prefer sweet or dry sparkling wine.
Absolutely no problem, if you belong to the group of the beer-type people, as our team will serve you unlimited beer during the whole dinner.
Our drink package includes non-alcoholic beverages as well:
You will find different types of soft drinks just like fizzy drinks, fruit juices or simple and sparkling mineral water
but do not worry, if you prefer hot tea the whole evening or want to have your cafe right after dinner, the package includes them as well
DRINK PACKAGE
Alcoholic drinks
Alcohol free drinks
Quality Hungarian wines
(From wines of different regions e.g.: Villány, Balatonfüred, Noszvaj)
Juice
Sparkling soft drinks
Champagne
(Sweet and dry)
Mineral water
(sparkling and non-sparkling)
Beer
(Staropramen, Borsodi)
Coffe
Tea

About the Hungarian folk music
If we have to summarize the Hungarian folk music, the few words it would be :
Happy, characteristic, dynamic, energetic, colorful, loud, spectacular……….well, basically it cannot be defined in one word, sorry.
This music of the Hungarian culture is very rich in themes and tunes as well, because there is always a reason for Hungarian people to sing about. Even if it is rainy or the day is sunny, they sing. There is a phrase they say about themselves "sírva vigad a magyar", which is hard to translate, because it sounds like "Hungarians make merry by crying" as a literal translation, but what it wants to say is the following: even they are happy and together with the family on a wedding for example, they sing sad songs…and they are really happy with singing sad songs.
There is a common opinion worldwide (but at least Europe-wide), that Hungarians are one of the most pessimistic nation in the world (at least in Europe). Why is this phenomenon currently so conspicious? People say Hungarians are never satisfied with their current lifestyle, their current situation, so they always – seriously - always find something to complain about.
Traditional dances
Folk dance is the kind of heritage of Hungarian people, that moves the guts of every single person, who listen to the music or is watching the