BEST SELLING PRODUCTS
Budapest sunset time in 2019
Tourists can find various programs: there're several famous buildings and museums, while fans of nature can also make great tours. Almost during the whole year, multiple festivals are organized in many fields: cultural, folk, gastronomy, etc. Moreover, the River Danube which separates the city into two parts is suitable for pleasant cruises.
Flowery springtime
Budapest is a bustling metropolis but there are also several amazing parks in it! Due to the colorful flowers, tourists can enjoy a great orgy of colors. It's worth making a trip to the Gellért Hill or to Margaret Island. Besides their historical values, they have several natural treasures. If you're lucky, you can see the Silene flavescens which is a yellowish carnation. In Hungary, this grows only on Gellért Hill! The Cherry Blossom in the Botanical Garden is also a must-have memory.
Gastro-festivals are available in every month. If you prefer culture fairs, visit the Antique and Modern Art Street Afternoon. It's an ideal program if you travel with your teenage children, as well as the International Comic Book Festival which is not a simple exhibition because you can buy or change some cool new items.
Days are longer and longer, so you can organize several programs during the daytime. And a sunset cruise is an ideal finale of them, since our Budapest sightseeing cruises are available till 10 p.m.! If you think about sunset, probably you imagine lots of colors such as red, gold, blue, or violet which are continuously transforming from one into the other. Many people would like to enjoy the whole splendor of this mystic period of the day, but only a few of them think that it's possible in a big city. However, if time in Budapest is right, the River Danube is a perfect site for Budapest sunset time.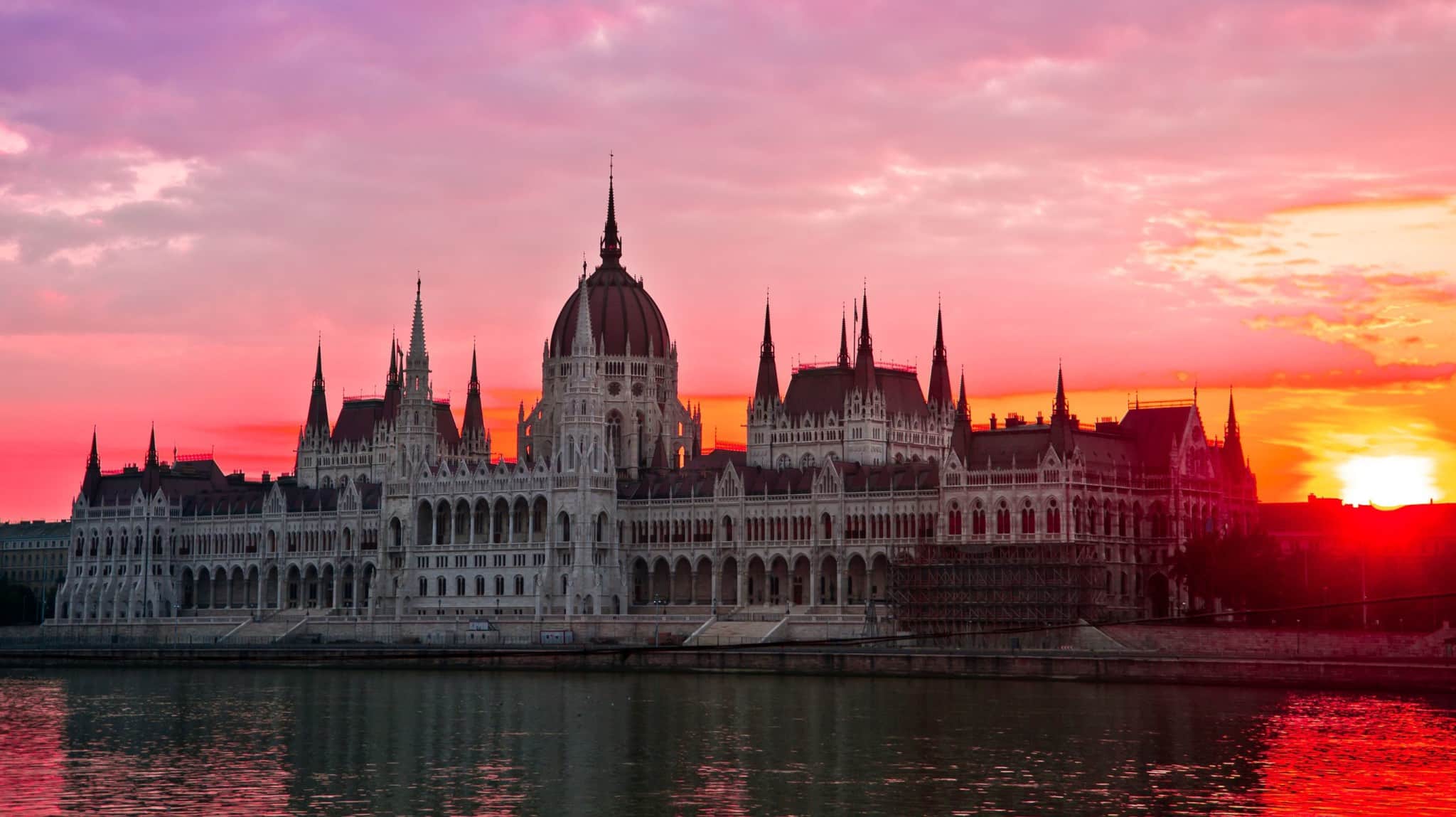 Gold & blue summertime
The most common cultural program is the Long Night of Museums around the summer solstice. Then you can visit museums at a lower price. Vajdahunyad Castle Festival is a fantastic music program and the milieu is also marvelous. And, if we talk about music festivals, don't miss the Island Festival in August.
In summer, every historical building, museum, and festival is crowded. If you don't like the crowd, join our sunset cruise and have a light dinner with unlimited beer consumption on our pizza and beer boat tour! You can adore the best-known buildings from the cozy board of our ships. And don't forget: on the waves even the hot summer eves are more bearable. Moreover: you can have some beer or alcohol-free drinks to cool yourself. Our sunset cruise is a little bit shorter than the other ones. It lasts only one hour, but 'the hour the blue and gold' is the most fabulous part of the day! It's perfectly suitable for taking photos of the river and the last sunbeams.
Multicolored autumn-time
As during springtime, it's worth making trips in nature in autumn, too. Naturally, there won't be flowers but the huge amount of red and orange leaves in September and early October are also fabulous.
If you like horses and historical costumes, visit the Budapest National Gallop where riders wear hussar-costumes. For tourists who prefer classical music, Baroque Musical Festival must be an eternal memory. Last but not least: the World Press Photo Exhibition or the Budapest Design Week are also promising.
Early autumn evenings are usually pleasant: it's still warm but the great heat is over. Maybe this part of the year is the most suitable for a great sunset cruise, where you can join us for a real Budapest cruise on the river Danube while listening to a live piano show or a traditional folklore and operetta show!
Sweet-smelled wintertime
Winter is thought to be smoky because of the heating season but near festivals the air smells sweet and spicy, due to the mulled wine and chimney cake. And in December, there're several Christmas fairs everywhere. You can find many classical concerts, especially in the St Stephen Basilica or Matthias Church.
Winter nights are long, so – if time spent in Budapest makes it possible – a Budapesest river cruise during the holidays can be an unforgettable prelude of them. If you're a lucky tourist, the winter will be snowy, and snow covering the bank and the roofs reflects the lights of the sunset. So not only the waves will be sparkling but almost the whole land wherever you look.
All in all: it is worth visiting Budapest at any time of the year. And don't miss a fabulous cruise on the River Danube!