September is one of the most beautiful months of the year to visit Budapest. You can still feel the warm breeze in the air; there are even sunny days especially in the last two weeks of September – also called as Indian summer. Another great factor is that the city is not as crammed with tourists as it was in July or August, except weekends when numerous festivals attract the people seeking some entertainment facilities. What are these fun things to do in Budapest in September? Check our brief summary.
It seems entertainment is in focus this time in Budapest. Four main branches are being introduced here: festivals, sports facilities, parties and shows and shopping.
Festivals at Budapest in September
What things to do in Budapest in September? The answer is attending a festival. About eight festivals are organized this time in the Hungarian capital. One of the biggest is the Budapest International Wine Festival. It takes place usually in the first week of September in Buda Castle. You try some top Hungarian wines (Tokaj, Eger, Villány) accompanied by mouth-watering dishes like goulash soup or lángos. In the evening you can listen to jazz, world music, folk and dixie concerts or watch spectacular folk dance shows. For people with sweet tooth, the 3-day long Budapest Chocolate and Candy Festival is recommended. The venue is by the St. Stephen's Basilica.
You can find excellent sweet savories in the numerous food stalls. There are interesting programs for children as well. Furthermore, adults can participate in a chocolate tasting tour. If you want to bring home a special souvenir, purchase some Hungarian themed chocolates. As jazz plays an important role in many of the clubs in Budapest, it is no wonder that a very popular jazz fest with international recognition is organized in the city. Jazz musicians come from all over the world to give performance either on A38 Music Ship or at the MU Theatre. If you love Baroque music from Vivaldi or Handel, the Baroque Music Festival is a recommended thing to do in Budapest. It is held in the baroque St. Michael Church in the city center. It takes about two weeks.
Sports
As the weather is quite pleasant in September, many prefer staying outdoors. There are many opportunities for swimming, playing tennis, football, jogging or cycling and so on. When you are trained enough, you should try and enroll in the International Half Marathon in Budapest. It is almost 30 years old held on 8th September. Or do you love horses? Then visit the Budapest National Gallop on the historical Heroes' Square. It is, basically, near the City Park and Vajdahunyad Castle. As you would expect, there are numerous food stalls and cultural shows during this equestrian event.
Parties and shows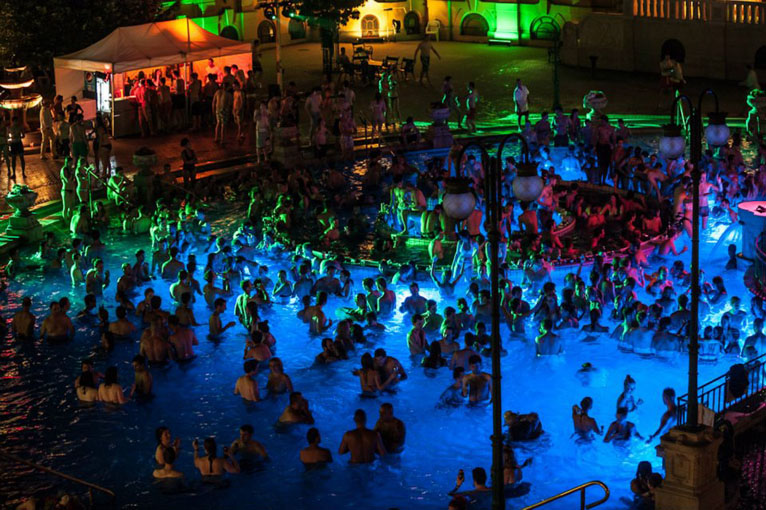 Thanks to the warm weather many outdoor terraces and party venues stay open. Széchenyi Thermal Bath is regarded as a special party place for its extraordinary, cool bath discos and laser shows and its Szecska Spa parties when water, music and party add up as "Sparty". If you are under 40, it is a must. A Budapest Cruise is a bit calmer event compared to the above ones. During a pleasant cruise, you can see some important sights of the city meanwhile tasty dishes are served and light music is played. Great classical and light music concerts await you in the St. Stephen's Basilica, the Palace of Arts; and live concerts in many bars and restaurants in downtown.
Shopping
Last but not least, here are some tips for shopaholics. In order to do your everyday shopping visit the refurbished Klauzál Square or the Great Market at Fővám tér. There is also a Boci dairy shop and local butchers selling quality Hungarian salami, sausages and other delicacies.
As you can see, Budapest offers zillions of fun things to do. If you have seen an attractive program, do not hesitate, give it a try, you won't regret it.