If you are looking for a real adventure, moreover, you are a fan of history or museum of terror with a mysterious atmosphere, this old brick and mortar building will be a memorable place for you.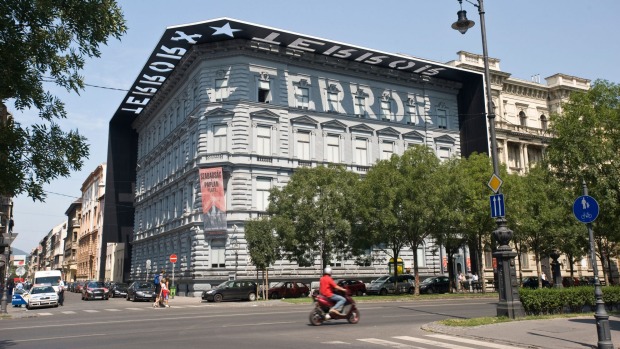 House of terror in Budapest – Just take a moment to sit in of the cells and you will understand it…
Hungary is famous for many sights, which are favored by local inhabitants and tourists as well. Although this terror house is lesser- known than the Parliament or the Chain Bridge, it is worth visiting, even if it is your first visit in Hungary and you would like to enter into its feeling of past and culture. The House of terror in Budapest is located at 60 Andrassy Boulevard.
If you want to reach this destination by public transport, you should use the Metro Line 1 to the station of Vörösmarty Street, but using tram number 4 or 6 to the Oktogon is also an easy way to get there.
The basic idea behind the House of terror in Budapest was the period when Hungary was controlled by the Nazi Party and Communist rule. As most people know, the rule of this Party did not last long, but this short period was enough to spread its evil. In the building, there is a special focus on those victims who were tortured, detained and interrogated. You may be surprised to hear that Nazis killed and tormented hundreds of men in the cellar beneath the street. A long time ago the building itself was used by ÁVH and Arrow Cross Party during World War II. Even though it is an old building it was renovated inside and outside, due to spectacular construction work.
In the interior part, you can experience the bloody and strain atmosphere, which was characteristic at that time. For example, you can see some walls full of Hungarian victims. This part can be a symbol of a room, which was painted with the blood of Hungarian people. Sorrowful, isn't it? Nobody could feel safe at that time because of cruelty. Many officers were killed without hesitation. If you ever feel that our present world is cruel, just take a moment to think about those Hungarian victims, whose death was useless and merciless. It's difficult to imagine what this period must have been like, but try sitting for a moment in one of the cells with the door closed.
Without a doubt, the Terror house is amazing and authentic feedback of real human cruelty and torture due to its visual and emotional imagery. Real pictures, uniforms, and symbols are connected to reality and generate a deeper commiseration in most visitors. It does not matter that you are a first, local or a foreign visitor. In this place, you can get all the important background stories and detailed overviews, which are necessary to understand what happened at that time and why it is so important to Hungarian people, not even mentioned a better understanding of the country's complex political background.
The cellars of the building are the parts of real horror and the basement was used as a prison. This area is bleak and depressing, but appealing at the same time, especially for history lovers. Of course, not just the interior parts have symbols, it is important to mention the outside parts where you can see a black frame protruding from the roof as another reminder of torture and cruelty onto Hungarian victims.
Nowadays the Terror House is not just a simple museum to visit. It is a sort of commemoration and a monument with its all parts to all those people who suffered and died during this hard and harsh period of the Hungarian life.
Opening hours:
The Terror Museum of Budapest is open from 10:00 AM to 6:00 PM, except on Mondays.