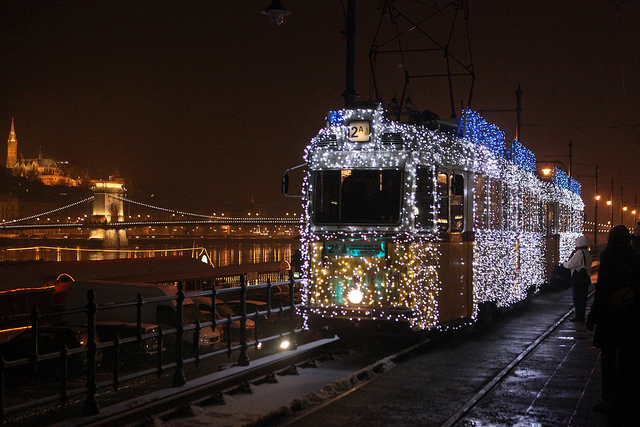 Many would believe that Budapest is silent and calm during the winter days of December, but they are totally misled. The 'Pearl of the Danube' offers a large basket of opportunities for tourists and citizens alike whether it is about indoor or outdoor events and programs.
Weather in Budapest
The average monthly temperature is around 2 degrees with some snowfalls and light blizzards at odd times. The surface of lakes gets frozen offering excellent ice-skating and sliding opportunities. It is often cloudy and windy. The trees and bushes covered in snow seem glorious in the parks and forests. If you have brought enough hot tea with you, take a shorter walk in a forest nearby and wonder the mighty snowflakes lying on the branches.
Regarding outfit it is advisable to dress up in many layers; so put on warm sweaters, a long-sleeve shirt, a scarf, a winter cap, gloves etc. Warm socks and winter boots should also go on your packing list.
Festivals in Budapest
The three biggest fun things to do in Budapest are the Budapest Christmas Fair, New Year Festival and Hannukah. Hannukah, the Jewish 'Festival of lights', is an 8-day holiday when 8 candles or oil-based lights are lit each day with daily prayer service and a section of blessing over meals. You can listen to marvelous songs like the hymn Ma'oz Tzur.
Budapest houses one of the most charming and attractive Christmas markets in Europe in the city center on Vörösmarty Square. It is easily accessible by public transport. You can purchase here quality handmade gifts such as leather products, pottery, kitchen utensils etc. The food court offers both Hungarian and international dishes: stuffed cabbage, beigli, grilled meats, lángos with diverse drinks like hot wine, punch, grog, coffee and tea. Beside mouth-watering savories, there are a lot of programs for children and adults: concerts, playhouse, children activities etc.
Another famous Christmas event is the Advent Festival & Fair at Szent István Square, Basilica. It has a quite special atmosphere with its wooden cottages offering local craft products, gourmet burgers meanwhile watching a spectacular light mapping show at sunset on the façade of the building. And if it was enough from Xmas, check out the 130cm high, 5-7 tons breath-taking Christmas tree standing in front of the Parliament building on Kossuth Square.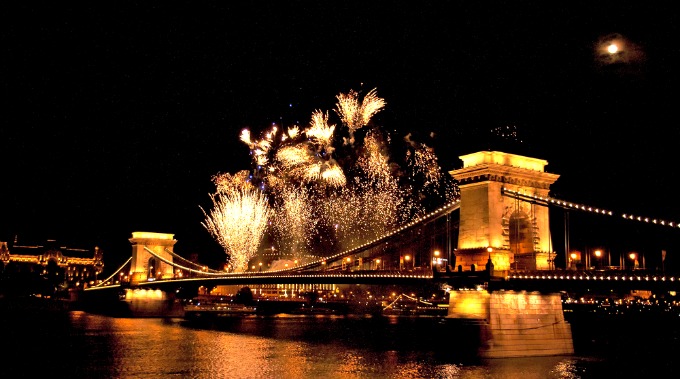 Parties and shows
New Year's Eve is equal to party time. Everybody loves dressing up a bit of extreme or extraordinary, taking part in house parties or dancing in a disco; even though, nowadays it has become trendy to spend the night outdoors either in a street festival, or in a luxurious bath, for example, Széchenyi Bath or book a ticket for a Budapest Christmas river cruise or New Year's Danube river cruise. All of them include lots of fun things to do in Budapest, the Hungarian capital. There are laser shows, night pool parties, live DJ, glitter and UV face paint, a drink bar offering a wide selection of beverages.
Moreover, culture vultures won't get bored in the city either since the St. Stephen Basilica, St. Anne Church, the Palace of Arts and Budapest Whale have put many concerts on their event list, including gala concerts, concerts performed by the 100 member gypsy orchestra, jazz parties, classical concerts etc.
Those who prefer to stay indoors
If you are interested in the Hungarian Jewish culture, visit the Quarter 6 Quarter 7 Festival in the Jewish Quarter of Budapest in December to take part in a guided walking tour in the buildings, also visiting quirky ruin pubs, clubs and restaurants.
On New Year's Day, be part of a spectacular festive evening held in the Danube Palace with Cimbalom Show, Operetta songs, Dance performances and a 70-minute long Chamber Concert.
For families with children travelling on the Christmas tram decked out in festive lights (39,000 blue and white LED lights) is a must. You need to purchase the regular public transport tickets or the Budapest Card. Of course, this summary did not list all of the events; the list is endless as Budapest offers zillions of fun things to do in every season. Do not hesitate, give it a try, the Hungarian capital is awaiting you.