Many questions could be raised regarding to the best destinations to celebrate New Year's Eve. Where is the best place to spend this special day? Where and how should I go abroad?
Is it essential to discover new places, new environments, new different culture and lifestyle still at the end of the year? Summer vacation is over and you would like to find some new destinations for the winter time… Many big cities are waiting for you to celebrate at the best, like Prague, Rome, London, Paris and Budapest. Find Budapest on the map! Let's explore this beautiful and entertaining capital on 31st December. New Year's Eve Budapest is about people, having fun, dance, drink and eat, almost everywhere in the city; pubs and restaurants are full of visitors. Even from plenty of programs you can choose whether it is a cozy and elegant bar or a cruise on the Danube. But do not forget the spectacular fireworks.
On the one hand, a gala concert and dinner offers you a classical concert with live performance, dance and ballet as well while enjoying a delicious dinner with the best champagne and wines as a full service providing you a truly elegant and exclusive night party. On the other hand, several outdoor parties are available on the major squares like at Vörösmarty, attracting many people to amaze the fireworks, enjoy outdoor free concerts and carnivals and say goodbye to the year. Spend this special day memorable and make a new vow about what you will do in the next year to be better.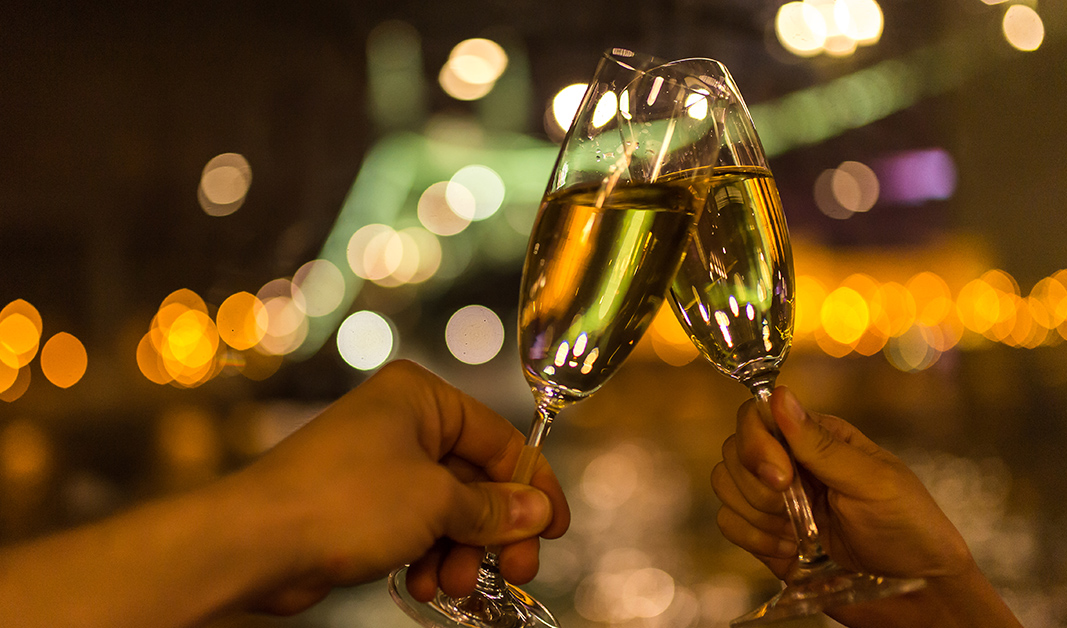 Concerts, theatrical performances, programs on the last day of the year in Budapest. Say goodbye to the old year and say glad hello to the new one in the capital!
Spend the last night on the Danube, cruising on an exclusive ship, taking a romantic adventure whilst enjoying delicious dishes, unlimited drinks and retro party. Admire the wonderful historical monuments of the very centre of Budapest, rocking on the Danube waves.
Welcome the New Year in the ballroom of the Hilton of Budapest offering exclusive dishes and drinks with professional live show and music.
Or you could be a time traveler! Akvárium Club is able to fly you back to the past, ensuring a fantastic 90s music all night. Feel the real Hollywood as a time travel among disco balls, tapes and movie stars. Choose finger food menu and some VIP extras.
A spectacular, unique revue show awaits each guest from all over the world in the glass-walled ballroom of the Marriott Hotel. Gala dinner, unlimited champagnes, cocktails, fantastic night shows and live music overlooking the Buda Castle… what more could you wish for!?
White Angel – VIP party at Symbol – is inviting you to desire the most premium night party. You will celebrate the last day not only with drinking, eating and sitting in a comfortable chair gazing at live shows but also you will have the possibility to live through really and experience the unusual elegant and quality party. Be the most beautiful lady and the most gentleman having an exciting New Year.
Restaurants still do know what you need to eat…
Take care of your eating habits as a guest staying in Budapest. On the basis of the Hungarian tradition, this occasion also has a special cuisine about what we should consume or should not. It is like a pretty superstition based on spirit as well. For example, lentils symbolize the wealth and happy life throughout the year. Pork will bring the fortune, luck and money, so eat this kind of meat instead of chicken, fish or beef. Taste sausages with ketchup, bread and hard-boiled eggs.
A night that everyone celebrates, a year that has just gone and a new arrive… Many people spend several weeks or even months with making the best plan in order to find the most proper way of entertaining in that special last day of the year. It is so curious, isn't it? Anyway, it does not matter because everyone is different meaning other happiness. Some take part in a huge gala dinner party paying a lot of money, and some just drink wines and talk to friends while sitting at home gazing at the fireworks at the midnight. For sure, on this day, each single major city in the world make its best, organizing millions of programs waiting for its guests. It is time to celebrate, say a Happy New Year!